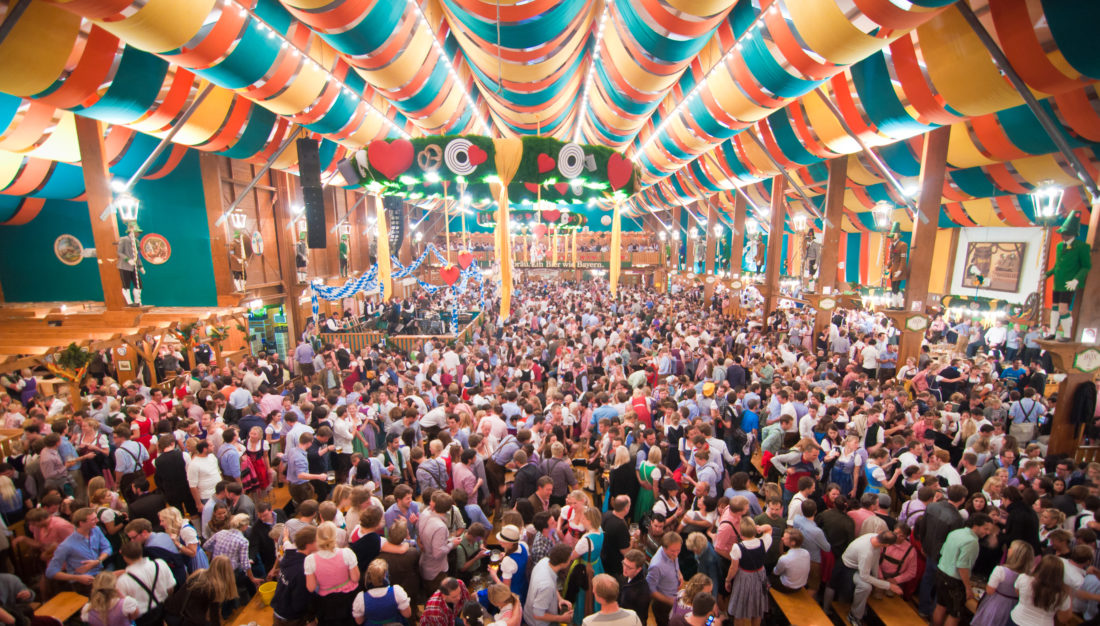 How to survive Oktoberfest
Every year between September and October, Oktoberfest hits the city of Munich, Germany. Over a course of 16 days, approximately seven million people gather to enjoy the world's largest beer festival. Dubbed as 'one of the best parties in the world', attending Oktoberfest is high on many traveller's bucket lists, boasting traditional foods, fairground attractions and, of course, more beer than you could possibly imagine.
Before you embark on this year's Oktoberfest, make sure that you know what to expect and ensure you're well prepared in advance.
Pick the right time
During the weekends, you can expect to be constantly battling the crowds and may find that it's difficult to get into certain tents, even if you're in a small group. To avoid this, aim to visit the festival between Monday and Friday and enjoy casual tent-hopping in a bustling crowd of merry festival-goers. Each weekend is very different at Oktoberfest, so make sure to research before you book.
Book accommodation well in advance
The earlier you can book your accommodation for Oktoberfest, the better. If possible, try to book your accommodation as far as one year in advance, with a minimum of at least 3-4 months. You can expect to pay a minimum of €250 for accommodation within the city so if you're on a budget, it may be worth extending your search to the outskirts of the city.
Set your schedule wisely
If you do plan on attending Oktoberfest during the weekend, make sure to arrive early to avoid long waiting times in tents. Once a group of drinkers has secured their spot for the day, you might be waiting a long time for them to move. Remember, there's much more to Munich than the confines of the festival. Take some time out to explore the city, enjoy the culture and set some chill-out time.
Dress the part
Once you're at Oktoberfest, you'll notice that almost everyone is wearing traditional Bavarian attire. The men usually sport lederhosen and the women, dirndls. To save money, buy your outfit in advance online for under €100 or else you can shop around for the real deal once you arrive. Make sure to rock the accessories, too. Shoes, hats and neck-wear can make or break an outfit.
Reserving a table
If you attend Oktoberfest during quieter periods, then it might not be necessary to book a table. However, if you don't want to stand around waiting, reserving a table could prove essential if you want to visit a specific tent over the weekend or a busy evening.
Bring cash
It's much easier for both you and the servers if you have cash on hand. Oktoberfest isn't a cheap affair; while it's free to enter the tents, a beer will cost you around €11 and meals are between €12-15. It's much cheaper to purchase food and beer outside of the tents at around €8 per drink with food vendors selling wurst, giant pretzels, roast chicken and plenty more for around €4.
Line your stomach
Speaking of food, make sure you eat enough of it to line your stomach if you're drinking at the festival. Oktoberfest is not a time for making diet-friendly food choices. Drink plenty of water before you get going and enjoy the traditional fare the festival has to offer. The beer is stronger than you may be used to at around 6% volume and easy to drink, so don't skip that extra giant pretzel.
Set a meeting point
Oktoberfest is huge and without a set meeting point it can be very easy to lose the rest of your party. Make sure you all know where you will meet up should you get split up.
Insuring your trip
While many arrange their travel insurance the day before their trip, it's worthwhile getting it sorted in advance to cover you in the event of any cancellations beforehand. At R Collins & Co we specialise in arranging tailored travel insurance for your trip, so you're covered for what you need and fully understand the terms and conditions and any exclusions of your policy. Whether you're getting your lederhosen ready for a trip to Munich, or you're doing something totally different, call us on 01977 558391 to find cover that's right for you.