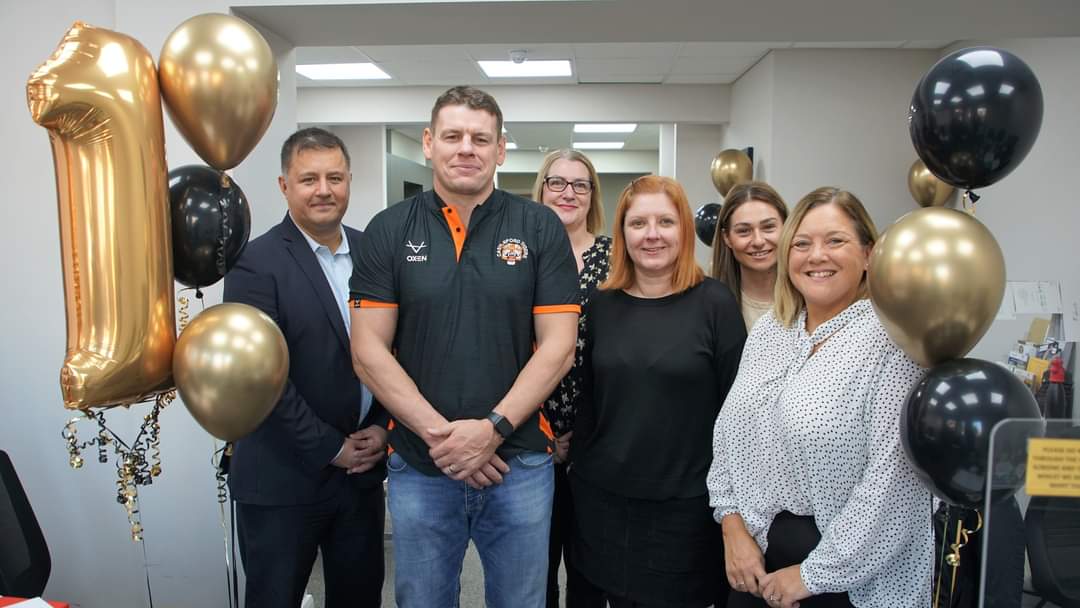 Brokers sponsors Castleford Tigers for fifth year running
As a Castleford-based brokerage, our ultimate aim is to help businesses and organisations in the area in any way we can. What is more community-minded than supporting a local sports team?
Castleford is synonymous with its rugby league club – the Castleford Tigers – and we've been club sponsors since December 2017. To be able to support the Castleford Tigers and join over 80 partners is an honour, as many of our team members have followed them for many years.
We've been extremely proud to be associated with the Castleford Tigers name for the last four years. It was especially rewarding to see them finish third in the 2018 season and reach the 2021 Challenge Cup Final. We're delighted to be sponsoring the Tigers again for 2022, as new Head Coach, Lee Radford, leads the team.
A spokesperson from Castleford Tigers told us: "As stadium insurance providers and club partners for the past four years, we have a great local relationship with the team at Lagentium. They provide us with an impeccable service and a number of our partners now use Lagentium for all their Business Insurance needs.
"We look forward to working with them in 2022, as we begin our new era at the Tigers with new Head Coach, Lee Radford, who will be proudly sponsored by Lagentium Insurance Brokers!"
If you're a Tigers fan, keep an eye out for our banner on the perimeter of the grounds. You'll often see our team at games, so please do say hello if you spot any of us in the crowd. Like many shops and businesses in the town, we also show our Tigers' spirit by decorating our office when the club reaches a cup final.
Tracey Train, Owner and Managing Director of Lagentium, commented: "The Castleford Tigers are the heart of the town. Many of the Lagentium team, including myself, have been Tigers fans since childhood. I remember going to matches when I was a little girl, cheering them on from the stands.
"We've sponsored the club for four years and are proud to back them for another year. We're excited to see what 2022 brings for the Tigers and are delighted to sponsor new Head Coach, Lee Radford, and wish him and the team every success for this year. We're committed to supporting the club now and in the future."
Did you know, ahead of the Tiger's 2020 season, we changed our name from R Collins to Lagentium Insurance Brokers? Our mission is to champion and support local businesses, which is why decided to take our name from the Roman moniker for the fort at Castleford – Lagentium – as it is our base and the home of many of our clients. We felt the new name and brand represented our business and clients today.
We recently celebrated the first anniversary of our brand-new office on Lower Cambridge Street, as well as the six-year anniversary of Tracey and Robert Train taking the reins of the business.
Tracey added: "The importance of shopping close to home has been highlighted during the pandemic. I think people have realised that we need to support our local businesses to help them survive. It's important that as a community in Castleford we continue to work together.
"As a brokerage that has been in the town for over 40 years, at Lagentium we have the local knowledge and expertise to understand the needs of businesses in the area, unlike many national brokers who might offer a more standardised approach.
"You can rest assured that you can lean on the team at Lagentium for your insurance needs. We're here to support you, whether you have established business or are just finding your feet."
At Lagentium Insurance Brokers, we believe in community focused broking. Our specialists are based in and around the Castleford area and have the local knowledge and expertise to source the right insurance solutions for your business and family.
To speak to a member of the Lagentium Insurance Brokers team about your insurance needs, please call 01977 558 391 or email enquiries@lagentiumib.co.uk.